Your name embraces your roots. Your origins are engrained in Korea and Spain, but you grew up in German. I guess your childhood was unusual, in a way.
Hi Claudia, thanks for your questions. I'll just answer them quite spontaneously.
I was born in 1982 in Cologne, my parents met there at work. My mother came to Germany in 1965; she was one of the first Korean women who came to Germany to work as nurses. There was a special agreement between Korean government and German government because Germany didn't have enough nurses in hospitals and the elders home. So, Korea was devasted after the Korea War and still in the '60 it was one of the poorest countries in the world. My mother was quite young, she was 19 when she was asked to come, and she came with her sister because she was so young. My grandfather asked my aunt to go with her and they came together. It was quite unusual.
She met my father there when she was having her formation at a place in Cologne, it was a kind of residence. He was a monk, actually, a monk from Spain, my mother was Catholic, she was sent to Germany by a German missionary from Korea who offered her to go to Germany. And my father was 28 when he went to Germany, and he was thinking to leave monastery. He wanted to leave it. He went to Mexico as teacher and he was in Italy, in Rome for 5 years and then Cologne, it was a stationary and then they met by coincidence. That's the story. I think that it was quite unusual when they married. A Spanish guy and Korean woman, it was not a scandal but in Korea and Spain it was quite a provocation.
When I was a child Korean was my mother's language; my mother always spoke with us in Korean and my Korean was quite good at that time. I entered Korean school before I entered normal German school. My first impression at Korean school was seeing a flag and entering the class where all the children were standing with their hand on their breast, and they were singing the Korean national anthem. It was really impressive and it's my first childhood memory, standing there and singing in front of a big flag on the wall. In Germany you never would have this kind of sensation because in the post war German nationalism didn't exist. But in '70 and '80 In Korea there was still a dictatorship and military government, so nationalism was quite strong at that time also in the Korean community in Germany. Becoming older and older I was quite ambivalent with my Korean roots because I wanted to belong to Germany, so becoming older I think I neglected my Korean roots.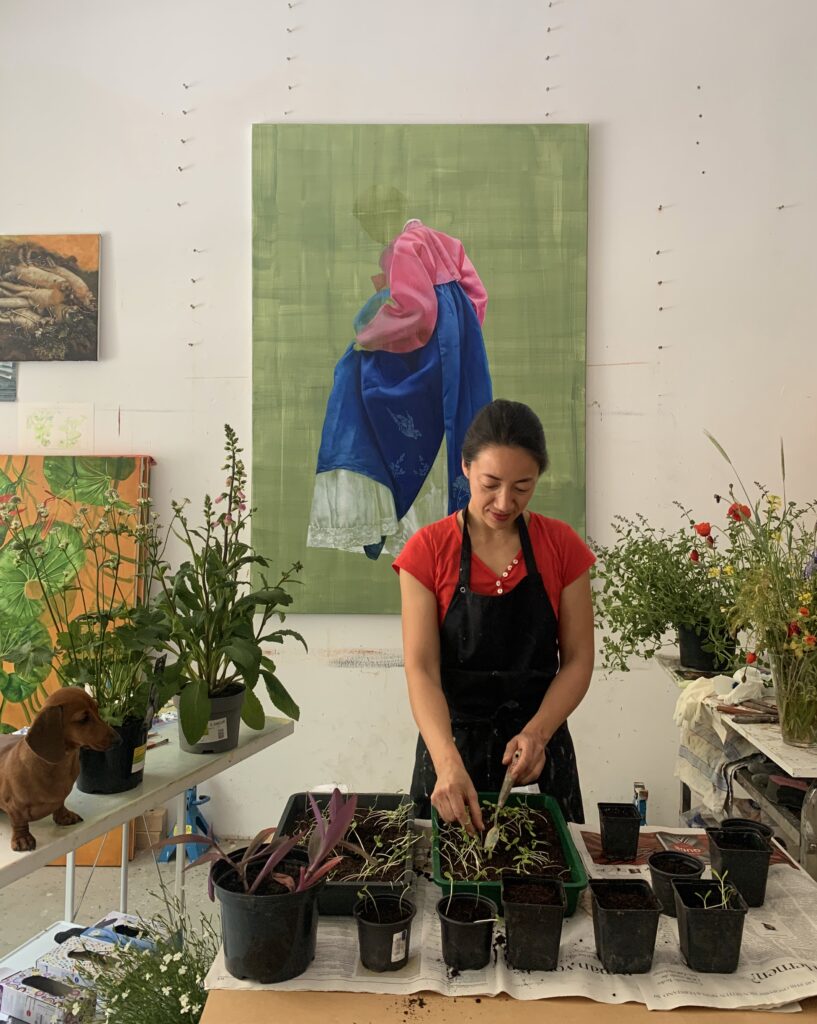 You were deeply touched by some old family photo albums. Those photographs made you curious about Korean culture and your mum's work (she was dispatched as nurse to Germany during '70s), when did you realise you'd become an artist and you'd put the concept of identity as central theme of your works?
As a student of the Academy, I started watching these old albums and I saw these beautiful pictures of Korean nurses and in their beautiful uniforms which are today very very different than the Sixties. It was quite nostalgic seeing all these places where I grew up and seeing the Korean women, the young women, in costumes, it was just a way to deal with my own biography, with my memories and it was a beginning of dealing with my heritage of my Korean roots.
It was very clear quite early when I was a child because my father was a gifted and talented painter, sculpturer. He made beautiful drawings. And he taught me to draw very early and in the elementary school I already know, I always drew. My drawings were quite good so I realised that it was something nobody else can do. So I drew, drew and always my sketch book with me, also later. For me it was clear that I would become an artist; my father was also supporting me in that wish to become an artist. We watched some videos together about the restauration of Cappella Sistina in Rome and it was so exciting for me. And I also wanted to become a restorer and the passion for all the masters and the artists was very very big.
You chose to become a painter. Usually, art is a way to reflect on its own self. Art involves questions and your painting are unique attempts to answer. What are your questions? Did you find any answer so far?
Yes, I answered my own questions. Maybe you have different questions when you started, a kind of research; now for example it's a kind of approach to this country which is still far from it. It's very familiar when I'm there but then it's also far away. I'm still a foreigner in Korea, I'll never be accepted as Korean, and my Korean is also very bad. I think my look at Korea is still very distant, I wouldn't say I have answered all my questions, but I think my reminiscence or my giving back something to my mother, maybe it's something I fulfilled.      
Your works revolve around some complex and deep issues: identity, heritage from the past and ancestral rites. When we look at your paintings we see something coming from the past but in a current context, I believe this time lag reflects a cultural displacement. Korea you know is your mum's and relatives' Korea, a country which doesn't exist anymore. You are grabbing the past and your effort reveals your love towards your family.
Identity wasn't the central theme of my work at the beginning because I had passion for portraits till during my studies I started to feel more and more involved in Korean culture and my Korean roots. So it became more and more important. Hanbok paintings are a kind of portraits because even if you don't see the face but you realise it refers to people, they're just hidden. It's a kind of reminiscence to the people I painted because they're special people who are my aunt, my mum, relatives, and other Korean women who were wearing their hanbok for me. So, I see them as portraits.
In the past you painted Korean nurses with old fashioned uniform, now you are focusing on still life paintings, whose goal is to suspend reality and fixing time to keep memories alive. Your oil paintings of Hanbok, traditional Korean Costumes, are awesome. The colours are vibrant and evoking.
When I started painting these Korean motives I started with the album of photographs and later I'd loan hanboks from Korean relatives and friends and I painted them and later of course, after all these travels to Korea, I was fascinated by the way the Jesa rituals, that means the ancestral rites.
When I saw those arrangements of fruit and food on the table I spontaneously would think of all masters still life paintings in Europe; when you studied artists and you see something like this beautiful, arranged food, you'd see the differences but also the familiarity, so I started the series of Jesa still life which I arranged and you can see the influence of European still life paintings: the light, the dark background but of course you see also it's a very different cultural context and that's something I was interested in. It's always my interest to combine my very Western techniques and this Eastern, Asian cultural aesthetic. This could be very "plakativ" but of course I wanted to have it subtle. As painter it's always fun to paint beautiful fruit and this surfaces in the Hanbok.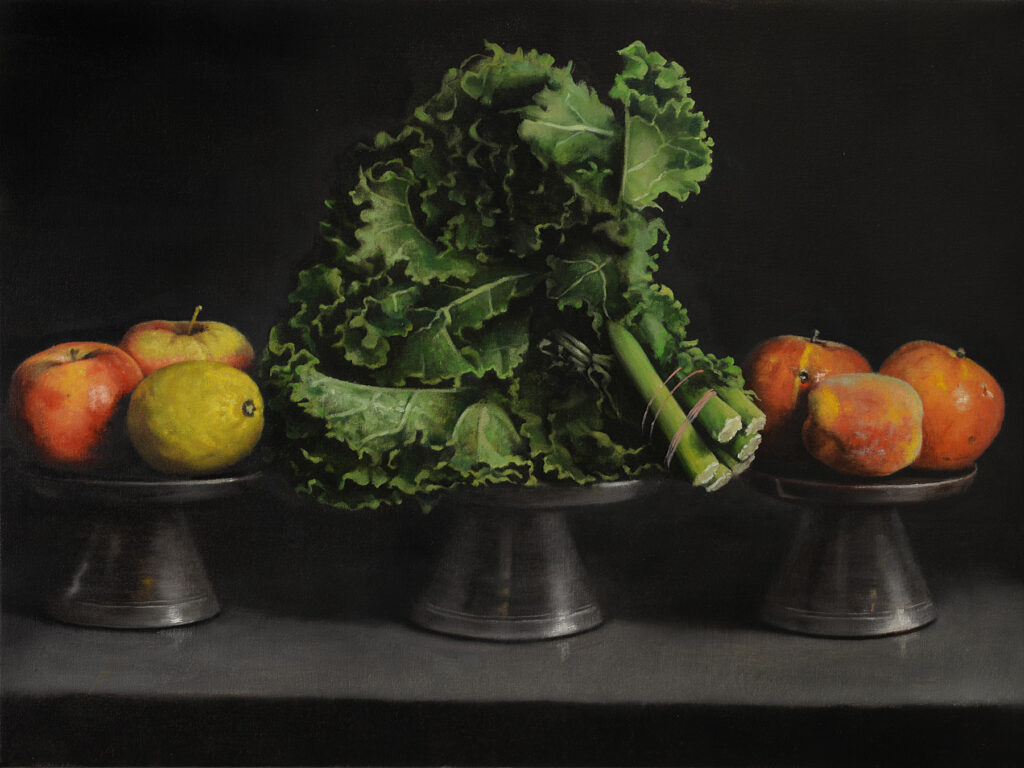 We know your works' central theme, but we still don't know which artists are your sources of inspiration.
I'd say a lot of Spanish painters like Velasquez and Zurbarán, you can always see some subtle references to these old masters in my paintings as well in the techniques or in the textiles. But also painters like Hockney? and his portraits which I really love. I wouldn't say I have one preferred painter but a lot. But also I love all these pure and almost minimalists modern portraits of Confucianists in Joseon Dynasty, they're beautiful portraits. It's very difficult to see them in Korea because a lot of them are in Japan or in the storage because they're very fragile. But you have a neutral background and then very beautiful and almost naturalistic painted figures, the dresses are almost graphic and you only have the faces which are looking straight without any emotion but the skin is almost naturalistic and I was fascinated by these portraits as well.
Right now, your works are on display at two ongoing exhibitions: in Seoul with "Korean Eye 2020: Creativity and Daydream", a touring and group exhibition in which twenty-six Korean contemporary and talented artists were selected, and in Cologne with "Caché", a solo exhibition including paintings from the last two years. Are you already moving forward new subjects? Any project in Italy?  
Yes, indeed, we will have an exhibition in Italy soon, it's in September and it's a kind of pop up exhibition near Mantova, it's in Villa Angeli in Pegognaga. It's only one-day, the 24th of September. We have this beautiful place, it's a villa of the Gonzaga from the XV century. And we will have my paintings combined with the old masters hanging there, we will have a music programme and a lot of fun. It's only one day but I hope to see you there.